A warm welcome to our Family Wellness Hotel Alpenhof****
We, Manuela, Theresia, Johann Stöckl and our entire Alpenhof**** Team are pleased to welcome you to our Homepage.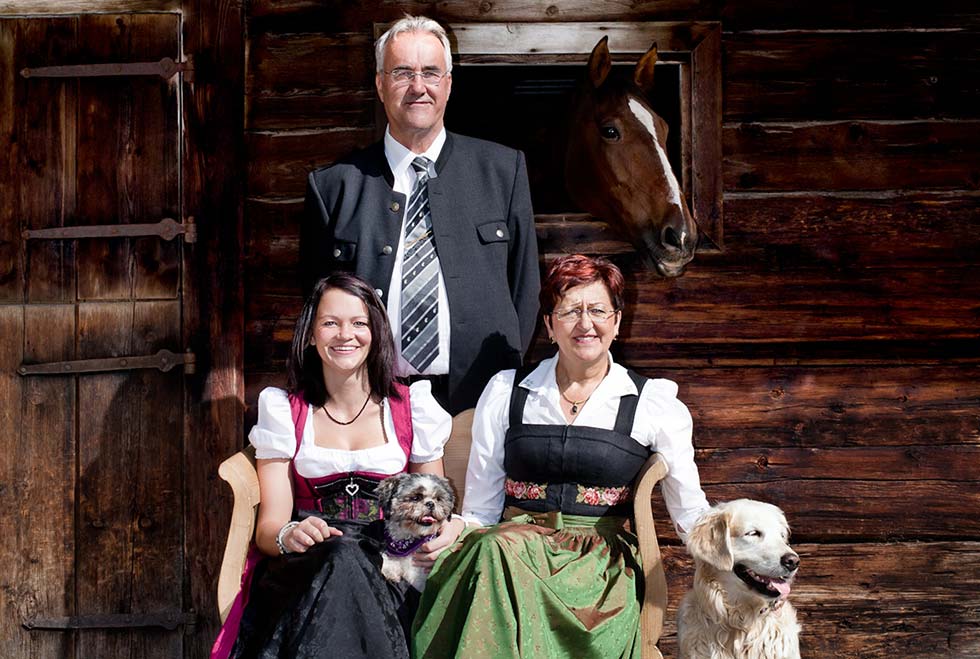 We invite you to discover the quality of our hotel through browsing our internet site and we hope to help you plan your holidays during the most favorable time of the year.
Ambience and Comfort
Experience Austrian hospitality in our dining room and house bars with fireplace decorated in authentic Tirol Style. During the summer a comfy sun terrace and sunbathing lawn offers a great way to relax. Our suites are spacious and completely furnished with modern amenities.
Indulge in a culinary experience...
Our extensive buffets are sure to tempt and the excellent menus offered by our kitchen chef are sure to please your stomach.
Regain Energie...
Rejuvenate yourself by using our spacious wellness oasis with sauna, steam bath, salt water whirlpool and swimming pool. Derive energy and vitality from visiting our specialists in the wellness oasis.
Let yourself be surprised by the pleasant atmosphere of our family, Wellness Hotel.
The Stöckl family and Team

Quick Overview of our Family Hotel
The Alpenhof Family holiday hotel-resort in Gerlos, awarded 6-crowns is specialized and tailored to vacations with children. A host of different free time activities permit small children and teenagers alike to participate in varied, diverse activities without ever becoming bored.
In cooperation with the Gerlos family team and Gerlos-Active in summer as well as the children's ski school in the winter, we look after your children daily between the hours of 9:30 and 3:30. Our large, comfortable suites and holiday apartments are ideally suited to family needs.
Our services make our hotel an ideal vacation spot for your family in Zillertal/Tirol. Although our hotel does not have its own child supervision, we have an extensive infrastructure catering to children's needs and our four star ranking makes us an affordable, top-quality vacation option in comparison with children's hotels.
Basic facts about our Wellness Hotel
Our 1200m² large Wellness facilities is unmatched in Gerlos. It offers you a 200m² indoor swimming pool and an additional outdoor, salt water whirlpool.
Enjoy our indoor Sauna facilities (not accessible to children), relax in our waterbed chamber, indulge in a massage from our massage therapist and chiropractor or treat yourself to a facial mask or cosmetic treatment from our beauty specialists.
If you would like complete privacy, rent a private sauna for the exclusive use of you and your family or visit our new roof-Wellness area with whirlpool, sauna and roof terasse with an incredible view on the mountains.
Our comprehensive wellness infrastructure, equipped with highly qualified massage therapists and beauty specialists offer our guests a reasonably priced high quality wellness experience in comparison with other wellness hotels.
A further advantage of our hotel: during off season periods, enjoy comfortable suites at affordable double room prices!
Ski hotel Overview
Given its location in the Zillertal Arena, Gerlos is the ideal place for skiers in the winter. With its wealth of family friendly slopes, Gerlos is especially suited to families, not to mention its offerings of a host of other winter sports.
Our hotel is located a step away from Gerlos and you can easily reach the Isskogel rail (1500m) by taking the ski bus that picks you up in front of the door (every 10 min) Ski slopes lead up to 200m direct to the hotel.

In cooperation with Michi's Ski School, Alpenhof offers a comprehensive program including kindergarden, children's ski school, ski tours, snow shoe hiking and ice climbing.
Also "non-skiers" will be happy with Gerlos as it offers 5 beautiful side valleys (with huts) for romantic winter walks.